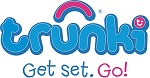 LUNCH BAG - LADYBIRD HARLEY
add to cart
stock: on stock
delivery cost in Poland: od 7 pln details »
delivery outside Poland: from 79 pln / EUR 20 details »
age: 3y+
product dimensions (cm): width 27 x height 19.5 x length/depth 7.5
product weight after unpacking: 0.157kg
total weight of product with package: 0.197kg
EAN: 5055192202911
DOMESTIC AND FOREIGN SHIPPING COST - PAYMENTS - WITHDRAWALS
Uwaga! Ze względu na integrację systemu informatycznego mogą nastąpić opóźnienia w realizacji zamówień od 17.02 do 23.02.2020r.
Dołożymy jednak wszelkich starań, aby były realizowane na bieżąco.
Making eating on the go fun for little ones with our Trunki.
Lunch bags - the clever adjustable strap means it can be carried as a backpack or tote and it's seamless liner makes it super-easy to wipe clean!
Dimensions 27cm x 19.5cm x 7.5cm (approx.)
Capacity 3.5 litres
Product Features

1. Multifunctional strap - use as backpack or shoulder bag
2. Easy wipe clean liner with no mess hidden seams
3. Inner mesh pocket for an ice pack or additional food
4. Write on area on back of Lunch Bag Backpack