Easily connect the arch to your stroller or baby bassinet for fun and amusement on the go. Flexible arch and universal attachment clip let you adjust the toy to your baby's changing age and stage.
0-3 months
During the first three months, babies need visual stimulation to help them learn to focus their gaze. The stimuli should be placed at an optimal distance (8-12 inches) and should include some movement.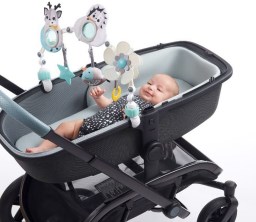 2-4 months
As your little one faces the toys within arm's reach, baby can gaze at the shining sun prism and other toys.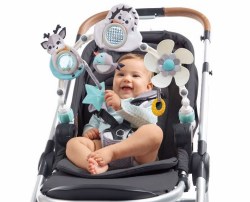 4+ months
At this stage, babies' developing senses and hand control allows them to reach out to the toys confidently, bat at them, hold them and pull them to their mouth. Baby will even learn to activate the arch's electronic bird toy to play some fun tunes.