Leżaczek-bujaczek 3w1 Tiny Love
Sitting to napping with 1 click.
Now with premium fabrics for Luxe look.
This innovative Tiny Love® product features a fun seat fitted with an engaging toy, a rocker that soothes baby with gentle rocking movements, and a flat mattress (169 °) with raised borders, which makes for a safe and cozy sleeping environment. Three uses in one product.
Features:
rocker easily converts from seat to comfy napper

soothing movements rock your baby at all 3 reclining positions

flat mattress with raised borders offers a safe & cozy napper environment

cute electronic toy dangles on an adjustable arm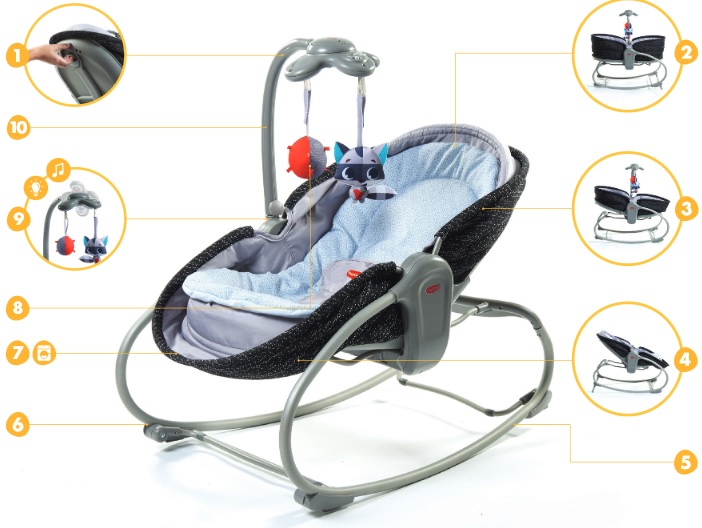 1. Sitting to napping with one click.
2. Napping position in a cozy environment.
3. Relief position with rocking motion.
4. Calming vibration felt through entire seat.
5. Steady base seat with locking legs.
6. Lightweight & portable.
7. Machine washable seat pad.
8. Adorable soft pals.
9. Entertaining & soothing with music and lights.
10. Easy parental access with adjustable toy arm.

Age Tips:
0-3 months
Quiet time alone is important for baby's development. Let your baby enjoy the gentle rocking movement of the 3-in-1 Rocker Napper while gazing at the musical electronic toy.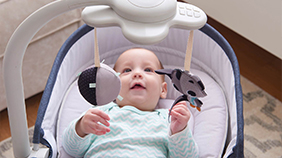 3-6 months: PRACTICING FINE MOTOR SKILLS
Move the Rocker Napper's hanging electronic toy close enough to baby's palm to help practice fine motor skills, first by simply raising hand and batting at the toy and later by grasping and pulling.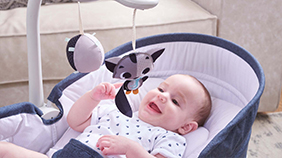 0-6 months: HELPING WITH COLIC & DIGESTION
About a fifth of all babies suffer from colic. The 3-in-1 Rocker Napper's soft vibrations help babies' immature digestive system and ease their discomfort.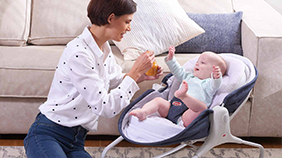 0-6+ months: PERFECT FOR COMMUNICATION
The Rocker's versatile seat gives parents a wonderful opportunity to communicate and bond with baby.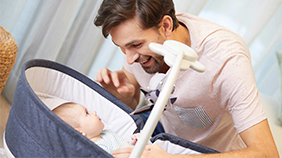 The Rocker Napper features gentle rocking movements and vibrations that can help soothe baby and develop body sensation and control. Parents can control the level of stimulation by activating or deactivating the product's various features.
Reducing Stimulation
If your baby seems uncomfortable or restless, try reducing the level of stimulation and examine baby's reaction. Let baby enjoy the hanging overhead toys without the music & lights feature or the vibrations and gradually try introducing the additional features.
Increasing Stimulation
If your baby seems uninterested or bored, increase the level of stimulation while monitoring baby's reaction. Rock the Rocker back and forth, add the vibrations and draw baby's attention to the dangling toys.
Did you know?
Some babies love vibrations while others don't. When you first use this feature, monitor baby's reaction to establish which it is.
age: 0+
child's weight: 0-9kg
colour: denim
product dimensions (cm): width 48 x height 72 x dl/gl. 73
product weight after unpacking: 4.725kg
total weight of product with package: 6.28kg
EAN: 7290108862140