Mata czarno-biała Tiny Love
You don't have to choose between development and style anymore. A trendy playmat that nurtures your baby's innate ability for exploration.
Let's develop in style!
STIMULATES SIGHT from day one with contrasting black & white colors.
18 DEVELOPMENTAL ACTIVITIES AND INTERACTIVE TOYS develop your baby's skills.
ULTIMATE TUMMY TIME - Adjust the arches to create the open arches mode, which offers the ultimate tummy time experience, boosting baby's development.
ENCOURAGES BONDING with the soft black & white take-along book, which is a great toy for babies and parents to enjoy together and excellent for tummy time..
DEVELOPS COGNITIVE SKILLS through interactive play with the responsive musical hedgehog toy.
STIMULATES THE SENSES with a soft mini-mobile designed in contrasting black & white colors.
Part of the black & white Magical Tales™ Collection: development has never looked so stylish!
Baby activated musical toy with 3 melodies
Wind chime badger
Fun fox rattle
Soft take-along book
Shiny satin ribbons
Star teether
Playful plush cloud
Crinkly peek-a-boo tree
Machine washable mat
Mirror for extended tummy time
Stimulating black & white mobile
Adjustable arches provide an adaptable environment for baby's continued growth
AGE TIPS
0-6 months: FINE MOTOR SKILLS & SENSES
The gym's contrasting black & white colors, textures and sounds stimulate baby's senses from the very first days. Let baby try to reach out and bat at the badger wind chime and enjoy the musical feedback or gaze at the clear geometric shapes of the black & white mobile.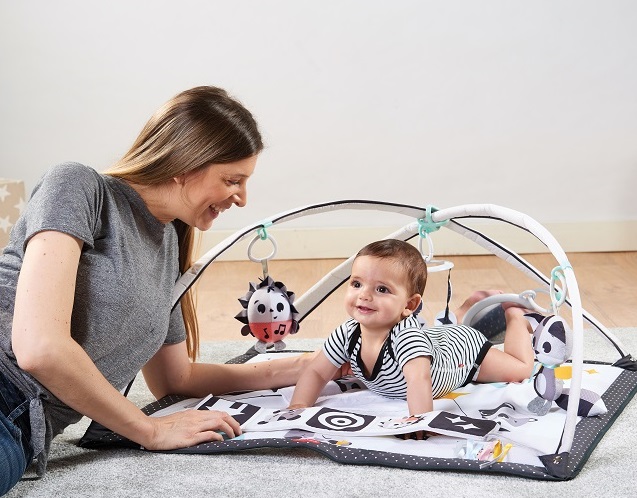 0-6 months: GROSS MOTOR SKILLS - TUMMY TIME
Move the adjustable arches to make sure baby has plenty of room for tummy time. Let your little one explore the shapes on the soft black & white book or marvel at their own reflection in the mirror while practicing tummy time.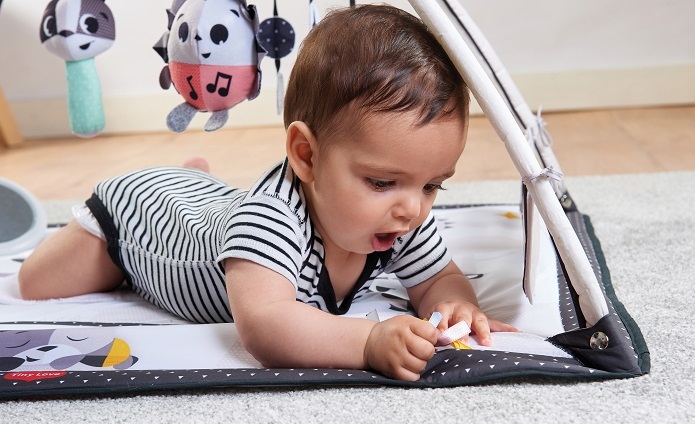 6+ months: COGNITION - CAUSE & EFFECT
When baby is older, it's time to go on exploring the playmat's various features in a more sophisticated way, playing with the electronic hedgehog toy to intentionally cause the lights & music feedback, enjoying the peek-a-boo game, etc.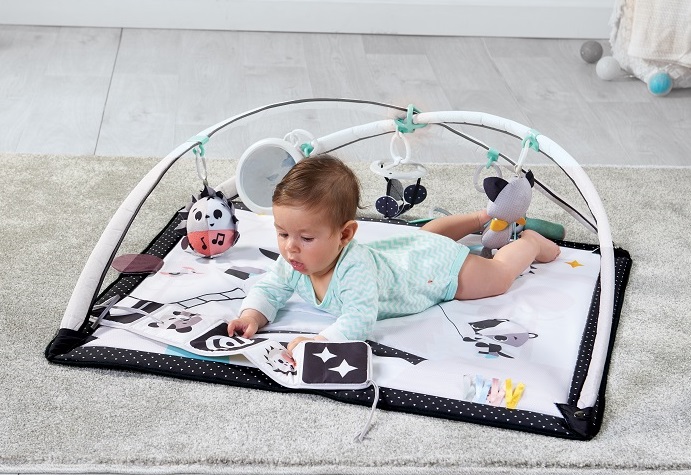 0+ months: EQ - BONDING
Move the adjustable arches into the open position and enjoy some quality bonding time with your baby, enjoying playing together while encouraging development. Show baby the various activities, talk about the characters in simple sentences ("Here's Marie the hedgehog!") or simply enjoy some precious eye-to-eye contact.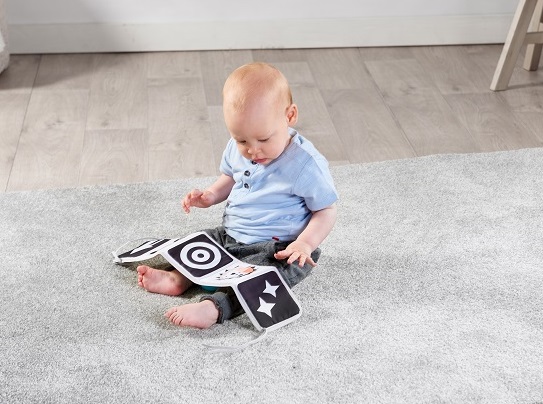 MODES OF USE
Lying
While on their backs, babies will enjoy the overhead gym toys and practice motor skills.
Tummy Time
Soft black & white book and other features will help extend tummy time and encourage gross motor skills.
Sit & Play
When in the sitting position, baby can continue exploring the toys and enjoy their more complex features.
Switching Modes
Simply press and slide the connector to move the arches and shift between the two modes.
These are the key Developmental Wonders that this product can help encourage in your baby:
Gross Motor Skills
The spacious and cozy play area let's babies stretch their bodies, experiment with movement and roll over, while the soft black & white book and other activities help extend tummy time.
Fine Motor Skills
While lying on the back and tummy, baby practices grasping skills and develops hand control.
Senses
The black & white Gymini® provides the perfect visual stimulation for young babies. The mat's wealth of textures, sounds and features provide ongoing auditory and tactile stimulation.
Cognition
As babies plays with the various activities available on the mat, the understanding of cause & effect and object permanence begins to form in their minds.
EQ
The Gymin®'s unique arch structure creates an "arch effect", a reassuring, comforting space that lets babies relax and concentrate on the stimuli at hand.
Language & Communication
As parents talk to their babies and point out the various toys and elements in the Gymini®, babies develop their language and communication skills.
age: 0+
product dimensions (cm): width 88 x height 45 x length/depth 78
product weight after unpacking: 1.155kg
total weight of product with package: 1.8kg
EAN: 7290108861808