TAKE ALONG MOBILE TINY PRINCESS TALES
add to cart
stock: on stock
delivery cost in Poland: od 7 pln details »
delivery outside Poland: from 79 pln / EUR 20 details »
age: 0-5m
colour: biały/różowy
product dimensions (cm): width 22 x height 34 x length/depth 26.5
product weight after unpacking: 0.34kg
total weight of product with package: 0.565kg
EAN: 7290108861457
DOMESTIC AND FOREIGN SHIPPING COST - PAYMENTS - WITHDRAWALS
Karuzela podróżna - Świat Małej Księżniczki
Colorful and vibrant Take-Along Mobile for on the go fun. Especially designed for baby girls!
Adorable toy that gives baby a sense of familiarity while on the go, soothing baby with relaxing tunes and slow motion that encourage EQ.

Designated connector for each mode of use: universal attachment clip lets you hang the mobile on cribs, strollers, bassinets, or nightstands.

Sweet characters from the Tiny Princess Tales™ collection inspire and engage babies' imagination at home and outside.

30 mins of continuous music featuring 5 different tunes.

Part of the Tiny Princess Tales™ Collection. Development has never looked so adorable!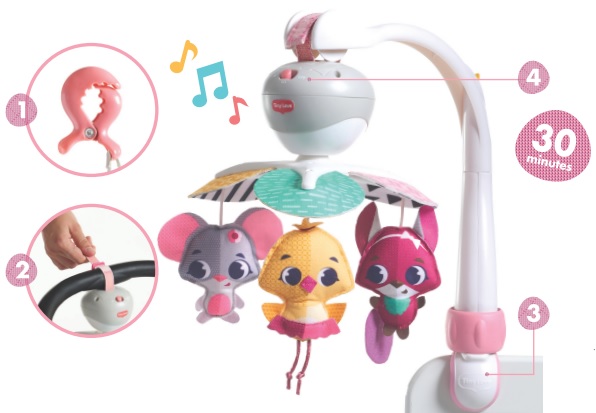 1. Large stroller clip
2. Hook-and-loop fastener
3. Universal attachment fits play yards & play or travel cots, strollers and bassinets
4. Up to 30 minutes of 5 different continuous melodies

Age tips:
Attach the Take-Along Mobile to your infant carrier, play yard, travel cot or stroller to take the fun along.
0-3 months
From a very young age, babies will appreciate the sense of security and continuity invoked by taking this mobile along everywhere they go.
3-5 months
Point out the Tiny Princess Tales characters to start building baby's vocabulary: "Where is the birdie? Here she is! Where is mouse? There she is!"
These are the key Developmental Wonders that this product can encourage in your baby:
The smiling characters' large eyes and the mobile's slow motion along with the soft music stimulate baby's sense of sight and sound.
The familiar soothing music and steady movement create an atmosphere that stimulates babies and reassures them.
Language & Communication
As babies lie in their crib or sit in their stroller, cooing at the mobile characters, smiling and practicing some baby talk, they hone their communication and language skills.