FOLDING TRIKE 600 RED
add to cart
stock: on stock
delivery cost in Poland: FREE DELIVERY details »
delivery outside Poland: from 79 pln / EUR 20 details »
age: 9m-3y
child's weight: 0-17kg
colour: czerwony/czarny
product dimensions (cm): width 48 x height 100 x length/depth 97
product weight after unpacking: 7.9kg
total weight of product with package: 9.96kg
EAN: 4895211400086
DOMESTIC AND FOREIGN SHIPPING COST - PAYMENTS - WITHDRAWALS
Łatwe przemieszczanie się
The 6 in 1 Folding Trike™ is designed for babies from 9 months and grows with the child!
It's designed for easy folding and compact storage.
No hassle assembly – no tools required. No dismantling. Just a few clicks
and the trike is ready to use.
On the move, just a few clicks and the product folds compactly for easy
storage in any car.
Smartrike's unique and sort-after patented Touch Steering® remains a key feature of the Folding Trike™ - maneuvers like a stroller.
The mudguard navigator button lets one switch from parent Touch Steering® to child ride-control.
Shock absorbers give baby a 100% comfort ride.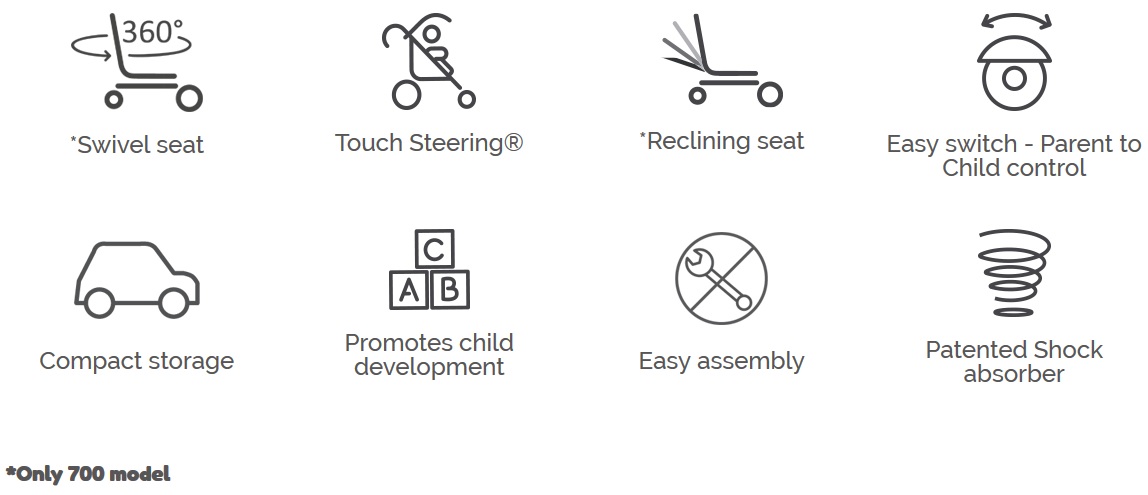 Features:
Easy fold design

World's most compact folding trike

Patented Touch Steering® for easy maneuverability

Telescopic, soft-touch parent handle

Large front swivel wheel with built-in shock absorbers

Eva Wheels

Mudguard navigator button – transfers control from parent to child

High back support with padded seat cover

Detachable, adjustable quilted canopy

Removable, soft-touch hand rest protector

3-point Y harness with shoulder pads

Non-slip pedals

Early stage footrest and foldable footrest

Padded parent bag

Luxurious quilted storage bag

Large cover bag for storing folded trike

Recommended for ages 9 – 36 months

Meets safety requirements

Patented

Benefits:
85% less volume when folded

Easily fits in any car

Built-in for smooth, easy ride

Comfortable hold, telescopes closed

Enhanced steering performance and baby comfort

For super smooth, quiet ride

Easily switch from parent Touch Steering® to child ride-control

For baby's comfort and safety

Snazzy design and sun protection

For convenience and safety

For safety

Attach when child ready to start pedaling

For convenience at early stages

Holds bottles and other accessories

For carrying toys and parent convenience, etc.

Protects and keeps trike clean

Stage 1:
Compactly folded trike – opens easily. No assembly. Fits easily in any car.
Stage 2:
At 9 months baby sits using early stage footrest.
Stage 3:
At 12 months baby switches to fold-down footrest, sitting comfortably and securely on fully padded, high-back seat with soft-padded safety bar.
Stage 4:
At 18 months remove canopy as baby grows. Baby enjoys the ride while developing confidence, balance & motor skills.
Stage 5:
At 24 months attach the pedals, switch navigator button - kids learn to pedal on training trike.
Stage 6:
At 30 months telescope parent handle closed; product becomes an independent trike that kids pedal by themselves.
This state-of-the-art Folding Trike™, loaded with features, is set to take the world by storm!