SUNNY STROLL MEADOW DAYS
add to cart
stock: on stock
delivery cost in Poland: od 7 pln details »
delivery outside Poland: from 79 pln / EUR 20 details »
age: 0+
colour: wielokolorowy
product dimensions (cm): width 47 x height 32 x length/depth 2
product weight after unpacking: 0.52kg
total weight of product with package: 1.3kg
EAN: 7290108861051
DOMESTIC AND FOREIGN SHIPPING COST - PAYMENTS - WITHDRAWALS
Uwaga! Ze względu na integrację systemu informatycznego mogą nastąpić opóźnienia w realizacji zamówień od 17.02 do 23.02.2020r.
Dołożymy jednak wszelkich starań, aby były realizowane na bieżąco.
Pomysł na naukę z Edisonem
A dual-stage colorful flexible arch with a variety of engaging activities for baby on-the-go
Features:
caters to two stages of development: Batting and sensory exploration (0m+) and pulling for cause & effect learning (5m+)

flexible arch bends forwards, backwards, up and down.

6 different baby-activated toys for fun on-the-go

tap & play musical feedback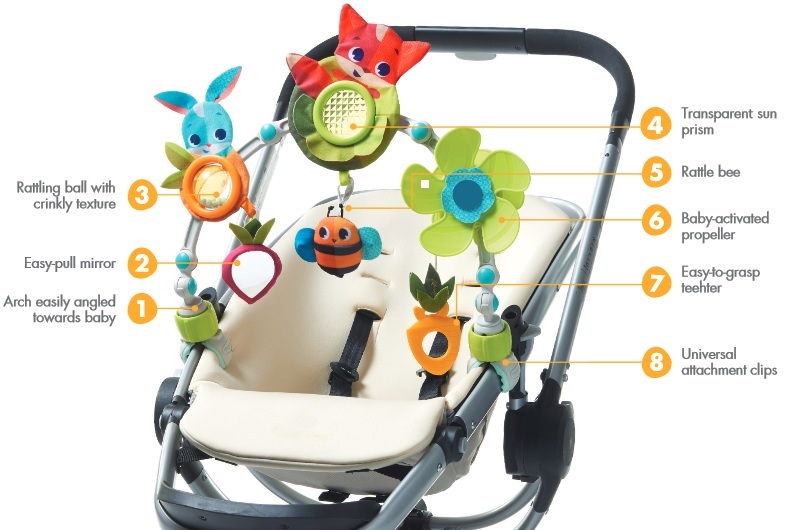 Age tips:
0-3 months
During the first three months, babies need visual stimulation to help them learn to focus their gaze. The stimuli should be placed at an optimal distance (8-12 inches) and should include some movement.

2-4 months
As your little one faces the toys within arm's reach, baby can gaze at the shining sun prism and other toys.

4+ months
At this stage, babies' developing senses and hand control allows them to reach out to the toys confidently, bat at them, hold them and pull them to their mouth. Baby will even learn to activate the arch's electronic bird toy to play some fun tunes.

These are the key Developmental Wonders that this product can encourage in your baby:
Senses
The 4 musical tunes, smiling characters, rattles and variety of textures stimulate baby's sense of sight, sound and touch.
Fine Motor Skills
The arch's adaptability means you can position the toys at the right distance from baby, allowing your little one to bat at the toys and later pull them, practicing motor skills and eye-hand coordination.
Cognition
Your baby bats at the dangling toys, learning all about the wonders of cause and effect. Later, baby will learn to activate the electronic toy and pull the propeller to extend this understanding.

The flexibility of Sunny Stroll Meadow Days allows you to moderate the level of stimulation offered by simply adjusting the stimuli within baby's field of vision.
Reducing Stimulation
If your baby seems restless or uncomfortable (crying, fussing or averting his gaze), distance the arch and reconnect it or remove the sun and the butterfly. You could also fold the arch in a way that allows baby to focus on just one or two of the toys.
Increasing Stimulation
If your baby seems bored or uninterested, draw the arch closer to her (8-12in/20-25cm away) and adjust its position so that the toys are within baby's reach. Baby will be able to hit the toys with her hands and, later on, grab them with ease. To draw her attention, pull the handle to make the flower spin.